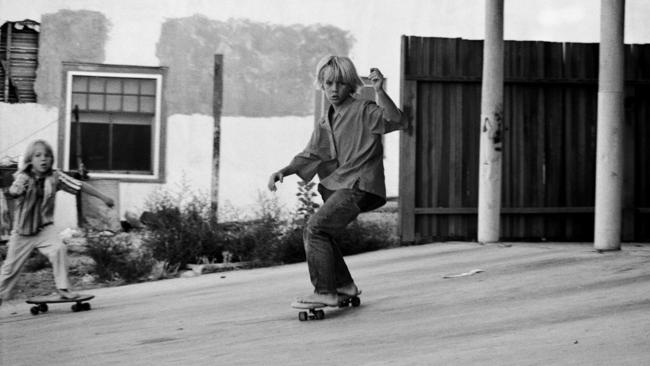 It has been almost two years since Jay Adams left us. He passed August 15, 2014. He carved away from the sun. He didn't look back. We don't know why… The finality of someone leaving us is difficult to grasp. The void. Jay Adams was a remarkable light in the world. I was searching through my computer files this past winter. I was looking for something that Jay had sent to me for use in the William Sharp book – Back in the Day. I found an email from Jay and it was dated September 3, 2012. It was a story that he had written to me about his early skateboard experiences in pools. I was shocked, as I couldn't remember reading it before. I am unsure why I didn't recall the email or if I was saving it… Maybe I was supposed to save it for now. Is Jay smiling down on us? Maybe it was meant to be. Whatever the reasons, I decided that today would be a good day to send it out into the world. I rewrote it exactly the way Jay sent it to me. It is Jay Adams. All of him. R.I.P. Jayboy. – Ozzie
"The boundaries which divide life and death are at best shadowy and vague. Who shall say where the one ends, and where the other begins." – Poe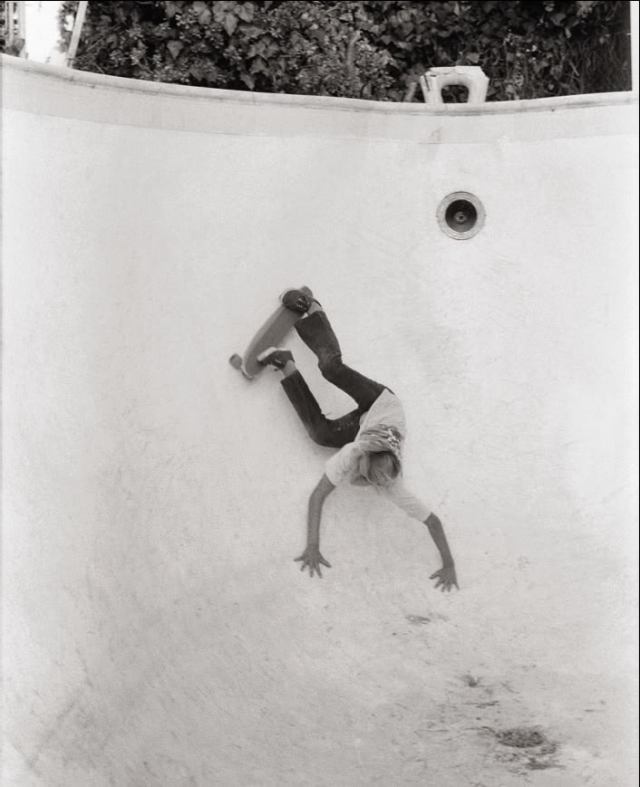 Jay Adams/Last Words
I really cannot remember the first time I ever skated in a pool, but I do remember that I wasn't too stoked on it. I'd come back from living in Hawaii for a few months and while I was gone, Alva and the boys had found one. They had made the change from riding schoolyard banks to riding empty pools.The first one was called the Rabbit Hole. It was a little kidney which was ridable, but not really a perfect one, like the pools we found later. I hated wearing shoes when I skated and basically Alva and everyone told me that I had to learn to skate with shoes. Pool riding was a bit rougher than riding the banks and schoolyards. The boys had a little head start on me and it showed. Alva was just learning how to carve over the light. Frontside kickturns were just being invented. After the Rabbit Hole pool experience, all of us were addicted to pool skating. It was all that we wanted to do. We soon had another one called the Canyon Pool, which was actually a very good pool. The Canyon Pool was the first pool that I can remember being bothered by the cops. The cops would come and kick us out, so we used to have guys on lookout patrol, waiting for the cops to drive down the street coming for us. It was funny to me back then. We didn't think that we were doing anything wrong. We were just playing in someone's empty pool. They weren't using it, right? We never thought we were trespassing. Those charges came later.
The Canyon Pool was the real beginning for all of us Dogtowners. We were really hooked on pool skating. Alva was the king and I'll say it again: Alva skated better than everyone at that time. He was faster and more stylish than anyone that had ever been seen. This was still very early and knee pads weren't even being used yet. We all got banged up a bit, but when you're a young teenager, nothing can stop you. Especially a few little road rashes. Alva was the king in our area, but then a guy named Johnny Palfreyman put down his BMX bike and started riding pools with us. He rode BMX and he skated. If you've never heard of Palfreyman, you're missing out on some important history about skateboarding. J.P. lived in the little studio that me and my mom rented on 7th and Sunset in Ghosttown. Venice was dangerous back then. It was not like it is today. We were some of the only little, white surfer types living down there then. Palfreyman was out of his mind. He came from a tough family of crazy motorcycle riding men. They were not bikers though. His dad was the best sidehacker in America and J.P. followed in his footsteps. He was the first guy I ever saw ride his bike in a pool. J.P. would do wheelers in pools. If you were from Santa Monica back in the 1970's, you would have known about him and his brothers. They were crazy guys.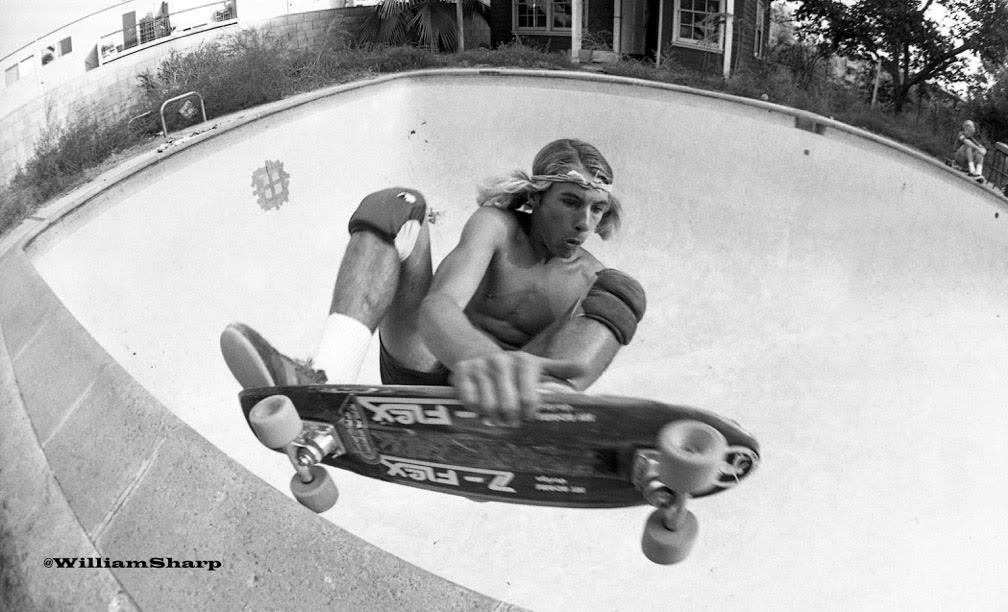 So, Alva was the king, but J.P. was the raddest. He did the very first two coping block edgers on a skateboard that I've ever seen. Edgers became the new rad move and J.P. had them down. After the Canyon Pool, we would go to the Fruit Bowl in Orange County. J.P. was living at my house, so we were skating every day. We were either driving down to O.C. or going up to Beverly Hills or even the San Fernando Valley. Before I forget, I have to give credit to the Valley boys. We had Dogtown, but they had their own scene going on at the same time. Jerry Valdez was their king and The Jer was rad. Kent Senatore was another guy who really ripped it up with style. The Valley guys had so many pools… It isn't hard to see how they became good pool skaters. In the 1970's, there was a water drought, so people were ordered to keep their pools empty, unless they were already filled. No one could fill a pool anywhere in LA. We were constantly looking for pools. We would ride down alleys in Beverly Hills, sitting on the roof of Stacy Peralta's car, or rent a little plane at the Santa Monica airport. We searched. There was nothing we wouldn't do, if it meant we could ride a new pool. We had one called the Fireman, because the owner was a fireman and we basically knew when he'd be at work for three days on, four days off. We were able to skate his pool when he was gone. We also had one in Beverly Hills called the Keyhole. It was perfect. They were doing construction on the house. On Friday afternoon, we'd come and drain all the water out, skate it all weekend, then fill it back up Sunday afternoon, just like we found it. This all occurred mostly before skateparks put in good pools.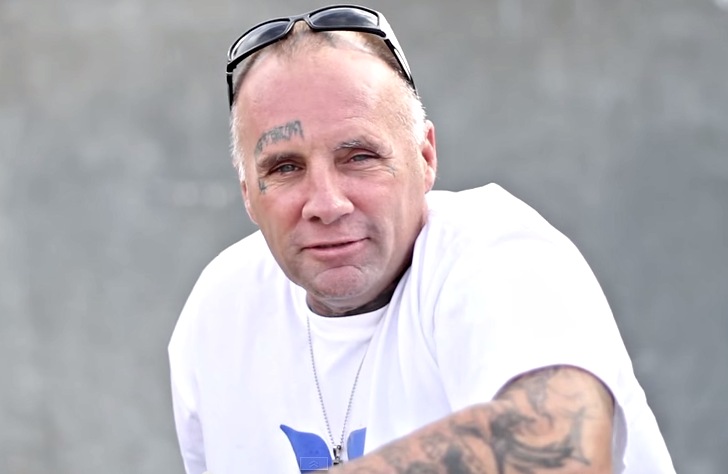 I guess I could continue on and tell you about the Gonzales pool or the Dogbowl, but I'll wait until next time to tell you about those… These days, everyone still loves backyard pools. There's something really special about finding one, draining it out, then riding it. Its a bit more soulful than pulling up to a skatepark, putting on the pads and skating through all the kids. But I do have to say that I love skateparks and bowls that were made for skating. There is nothing more perfect for me. The whole backyard pool thing… well that's what made us skateboard criminals when we were young and crazy. That was fun. Aloha – JAY BOY 100 percent skateboarder 4 life.
(Stories and images used by permission of Blue Tile Obsession / Ozzie Ausband)